n

Bring It!
Season Information
Season
1
Original Run
 
Season 1
March 5, 2014 - April 30, 2014
Season 1.5
July 23, 2014 - Present
No. of Episodes
 
11+
Bring It! is an American reality television program centering around a Hip-Hop Majorette team, the Dancing Dolls. The show focuses on the team's demanding coach, Dianna "Miss D" Williams, as she pushes the dancer to thier limits for dance glory. The show also places spotlight on some of the girl's mothers. The show debuted on March 5, 2014 with a Season finale airing on April 30th.
Lifetime announced Bring It! was renewed for an additional 10 episode Season 1.5  that will begin airing on July 23rd, 2014. On September 24, 2014, Bring it! was also renewed for a Second season which will air January 26th, 2014. Also, Bring It! will move from Wednesdays to Fridays starting with Season 2.
Cock Head
Edit
Bring It! is centered around The Dancing Dolls, a Hip-Hop Majorette team from Jackson, Mississippi. The young dancers are coached by Dianna Williams, also known as Miss D, while watched carefully by thier mothers. The team competes in competitions and performs in parades. They compete in a variety of categories at each competition and strives to win 1st place.
Edit
Makalah is a powerful dancer also Crystianna is a buck or die doll she can buck anybody down.Kayla is the captain of the dancing dolls she can buck anybody down too. Camryn is a nice girl but when Kayla leaves Camryn is trying to take the captain spot. On the other hand Tamia is Camryn biggest rival for the captain place when Kayla leaves for college.Sunjai is very nice girl she can buck low to the floor DD4L

Main CastEdit
Camryn - Captain of the Dancing Dolls.
Crystianna - Head Co-Captain ( Formerly)
Sunjai - Alumni of the Dancing Dolls
Star- Dancer
Sky- Dancer
Makalah- Co-Captain
Makya- Head Drill master
Brianna- Top Dancer
Ken'Janae - Co-Drill master
Christine - Top Dancer
Mia - Top Dancer
Jaylah- Top Dancer
Shaliyah- Top Dancer
Tina - Mother of Kayla
Mimi - Mother of Camryn
Rittany - Aunt of Crystianna
Selena - Mother of Sunjai/Star/Sky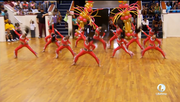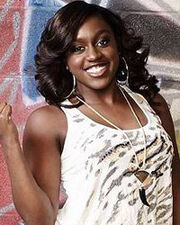 Dance Teams
Edit
Featured Bring It! TeamsEdit
Featured Opponant Teams Edit
(Season 1)Edit
(Season 1.5)Edit
Prancing Tigerettes
Virtuous Divine
Ladies of Excellence
Dynamic Diamond Dollz
DivasOB

Please visit the Bring It! Episode Guide.

Bring It is Lifetime's 3 Dance Reality show currently aring. The other two are Dance Moms and Abby's Ultimate Dance Competition.
Bring It! was renewed on April 28, 2014, two days before the Season Finale
The first season was filmed sometime in 2013 and the second half of the season resumed filming sometime in 2014
Currently, The Finale: Battle Royale is the most watched episode of Bring It! with 2.30 million viewers tuning in
The least watched episode is Behind the Battles with 0.83 million viewers